Blog
> What Is Your Loss of Limb Functionality and Capacity?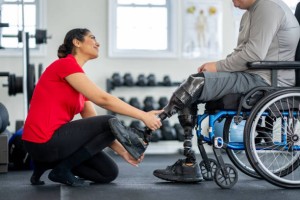 What Is Your Loss of Limb Functionality and Capacity?
Currently, there are about 2 million Americans that have some level of limb amputation. During Limb Loss Awareness Month, we want to acknowledge these individuals. The type and severity of amputation that individuals experience can vary significantly. Because of this, it can be challenging to establish current and future employability. Our team strives to advocate for our client's needs by quantifying these needs through the use of functional capacity evaluations, vocational assessments, and rehabilitation recommendations.
Functional Capacity Evaluations
A functional capacity evaluation (FCE) aims to collect information and data on the injured individual's physical abilities. This information is then used to determine the validity of the complaint, the extent of the injury and disability, future work ability, and potential work restrictions.
No two evaluations are the same because no two injuries and amputations are the same. Because the goal is to find the individual's unique capacity, the assessment needs to address their specific amputation and functionality.
Evaluations can start with a questionnaire that the amputee will fill out. This type of self-assessment establishes the individual's mental state and perception of their own abilities.
The next phase of the evaluation is typically a physical assessment. This has the amputee doing physical movements to assess their capacity to perform daily tasks. Doing this establishes a baseline for the individual's disability. Next, the evaluation focuses on physical functionality as it relates to the individual's job. This typically includes movements and functions that the person would do while performing their job. This part of the assessment establishes the person's ability to return to work. It is also required to develop a list of accommodations for the individual to successfully perform their employment role. Typically, the more severe the amputation is, the more reduced their ability to return to work is.
An FCE could include these types of movements and tasks to assess the individual's ability.
Lower Amputation
Sitting

Balancing

Stooping

Kneeling

Crouching

Standing

Walking

Climbing

Crawling

Twisting

Bending
Upper Amputation
Carrying

Reaching

Handling

Gripping

Lifting

Pushing

Pulling

Flexibility

Holding
For many amputees, when their functional capacity evaluation takes place will impact the results. Studies show that individuals report their physical functionality declines in the seven years following the amputation. By the end of the seven years, about half of amputees evaluate themselves as severely disabled. Unfortunately, this self-assessment as severely disabled results in a significant drop in return to work rate.

Many individuals' first functional capacity evaluation will occur several months or even a year after the amputation. This allows them time to heal from the amputation and participate in rehabilitative therapy with their new prosthetic device. That way, there is an accurate assessment of the injury and potential future functionality and work capacity.
Walking Distance
It is established that the further someone can walk, the more likely they will return to work. In addition, walking distance tends to correlate with the individual's physicality and overall health. Healthier individuals report to work more often and can maintain long-term employment.
Prosthetic Device Usage
Prosthetic usage has a direct correlation with employment. Individuals that utilize their prosthetics more often are more successful at returning to work. However, this isn't always about the choice or decision to use a prosthetic. Prosthetic usage can be limited by mobility, comfort, and physicality.
Age of the Amputee
Generally, the younger the individual is, the more likely they are to successfully return to work post-amputation. However, this means that as the individual's age increases, their likelihood of returning to work decreases. Therefore, there is an increased need for life care assistance in older amputees due to their reduced ability to return to work.
Psychosocial Adjustment
While amputations are a physical change, it isn't just the physical loss of a limb that impacts an individual's ability to return to work. Studies have found that people who adjust faster and accept the loss quicker are more successful at returning to work. In addition, the individual needs to believe they can and will return to work. However, this mindset reaches further than someone simply deciding that they want to go back to work. Other psychological factors could impact the person's ability to have a mindset of acceptance and positivity. Counseling or mental health services may be a useful component to an amputee's life care plan to aid in psychological healing.
Vocational Assessments
A vocational assessment analyzes the individual's employability in terms of qualifications. A vocational expert considers experience, developed skills, background, education, and previous positions. This assessment examines medical records, education records, previous job descriptions, and resumes. The expert then compares this compiled information and data with the nature of the amputation. The goal is to determine employability and the amputation's direct impact on the individual's vocational experience.
Rehabilitation Recommendations
In many situations, a rehabilitation plan can address many of the potential complications identified in the functional capacity evaluation. For example, walking distance ability can be improved with rehab focusing on limb strength and range of motion. Once certain thresholds are achieved, rehabilitation can focus on improving mobility and function while wearing the prosthetic. Doing prosthetic rehabilitation can increase the individual's use of the prosthetic and improve their likelihood of returning to work.
This rehabilitation varies significantly in the length of treatment time. It can be as short as several weeks or well over a year. For many, the longer they commit themselves to rehabilitation, the more functionality and mobility the individual gains. This results in a higher likelihood of successfully returning to work.
Potential Complications
Individuals that return to work report common complications that make their employment efforts more challenging. These are important considerations in life care planning because they can have a detrimental impact on an individual's efforts to return to work.
A common frustration is dissatisfaction with prosthetic limb comfort. This can create new and unpredictable pain that renders someone unable to perform their employment duties.
Another common complication is residual limb skin health. This can render someone unable to wear their prosthetic while their skin heals. This can result in them requiring additional accommodations or being unable to work.
Finally, amputation-related pain can be pervasive and unyielding. As a result, someone suffering from this type of pain will experience a diminished functional status.
What Is Your Post-Amputation Employability?
If you recently experienced an amputation, you are going through a transition in life. Our team of experienced life care planners and vocational experts addresses your situation from all angles. This ensures that your current and future needs are taken care of. Because each individual's amputation is unique, we take a comprehensive and holistic approach.
Schedule a consultation and let our experienced team advocate for you.